TOOLS 3D Culture Plus Kit
TOOLS 3D Culture Plus Kit is a comprehensive set of reagents to establish the microenvironments for 3D cell culture and related applications. The polymers included in TOOLS 3D Culture Plus Kit can generate hydrogels at fast gelation rate. The full control of biomolecular modifications and gel stiffness could be achieved easily and efficiently with this ready-to-use kit and allows a great variety of cell culture applications.
Feature
Scaffold-base matrix formulation ideally mimicking in vivo microenvironment for cells.
Allowing full control of biomolecular modifications and gel stiffness to maintain natural morphology.
The special formulated hydrogel can quickly and stably form culturing matrix.
Easy to collect spheroids with the Dissolving buffer in this kit.
---
Workflow
TOOLS 3D culture Kit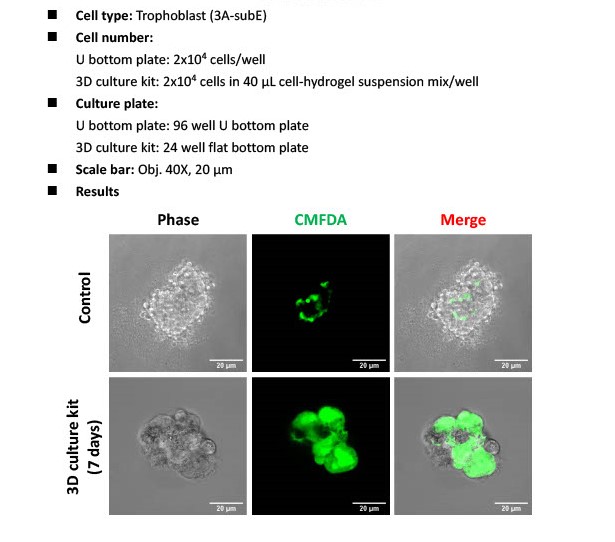 Great growth and integrity of spheroids

Figure 1. HCT116 cells were cultured in 3D with TOOLS 3D Culture Plus kit for day 0, day 3, and day 7. The spheroids grew successfully, and the volumes of spheroids increased following days.
---

Figure 2. Huh 7 and A549 are cultured in 3D and their spheroids were collected with TOOLS 3D Culture Plus Kit.
3D culture of Kidney disease cells

The kidney disease cells were cultured in TOOLS 3D culture Plus Kit. Kidney disease cells were cultured in hydrogel-based 3D culture materials for 4 weeks. Cells were treated with drug (Drug1) and refreshed medium twice a week. Analysis using F-actin (Green) to observe the spheroid structure. Nucleus stained with DAPI (Blue). Scale bar = 100 um.
Suitable for a variety of cell lines
:
Carcinoma/adenocarcinoma origin
Q1. What should I do when the hydrogel quickly become too viscous to use?
A1.
1. Place the hydrogel at 37°C until it is complete dissolution and mix with cells quickly. Remember to avoid repeated thawing the hydrogel.
2. Using low residual tips.

Q2. What should I do when the hydrogel floats up during cell culture?
A2.
1. Prepare 1X hydrogel (keep at 37°C) and mix with cell pellet which already discard supernatant and incubate it on pre-cooled culture plates.
2. Add 1X Scaffold Buffer along the wall of the culture plate, and carefully not to aspirate the solidified gel.
3. We recommended not to use suction changing the culture medium. The suction force may move the gel.

Q3. How to increase the size of the spheroid?
A3.
1. We recommended cultured 105~107 cells/mL.
2. Refresh the medium frequently and cover the hydrogel with medium during incubation.
3. Increase the concentration of FBS from 10 % to 15 %.

Q4. How to prevent cells migrating out the scaffold after 10 days of culture?
A4. It is recommended to reduce the cell numbers before culturing.